Welp. This morning I received an email from my favorite business bank, Azlo, that they are planning to shut down following the acquisition of their backing bank, BBVA Compass, by PNC. Bummer!!!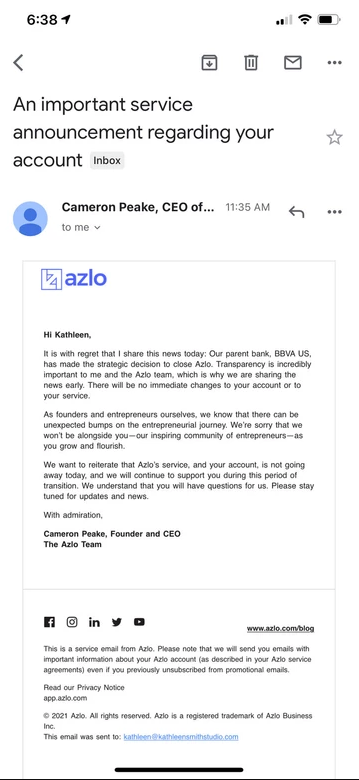 So this news leaves me (and many other freelancers and business owners) with the need to find an alternative to Azlo for our business banking needs.
Note: If you are an Azlo customer like myself, don't let this news panic you or send you scrambling for the first alternative you can find. I would expect this shutdown to take weeks – most likely even months – with plenty of communication along the way.
So as you are investigating your options, I've rounded up a quick list of freelancer-friendly banks for you to consider as an Azlo alternative.
A few things to keep in mind for freelancers looking for free business checking:
Check to see what the fee schedule looks like — is there a minimum monthly balance required to maintain free business checking?


Does the institution have a maximum daily cash deposit amount? If you have higher value checks for your projects, this could come into play.


Are you limited to a certain number of transactions per month?


Make sure your chosen financial institution is FDIC-insured or NCUA-insured. These are the two governing bodies for banks and credit unions, respectively.


Make sure your chosen financial institution is backed by a reputable bank. This was one of the reasons I went with Azlo initially as BBVA Compass is a huge bank and I knew that my hard-earned income was safe.


Make sure to choose a business (not consumer) account as it's against many financial institutions' terms of service to use a consumer checking/savings account for business purposes.


Consider whether you'll need to visit a physical branch or if the financial institution's online features will satisfy your requirements. For example, I used Azlo's mobile deposit option in their mobile app and never missed not having access to a branch. Previously, I had used a local credit union for my business bank accounts but they did not offer mobile deposit and I occasionally had to make it a point to drive to that credit union's branch so I could deposit paper checks from clients who wanted to pay by physical check.
Do your due diligence and research. Several neobanks have made headlines recently for snafus that could really throw a wrench in your finances.


You may be concerned about interest. In my opinion, it's not worth worrying about as most financial institutions no longer offer interest rates on checking/savings that are likely to be of any consequence to your bigger picture. To that point, I choose to bank where I believe I will have the best customer experience.
Roundup: Free Business Checking Alternatives To Azlo Banking
Novo [UPDATE 3/11/21: KATHLEEN'S PICK!]
Novo is a fintech company offering free business checking account services (powered by FDIC-insured Middlesex Federal Savings). 
Novo has a super slick mobile app and web interface with all the bells and whistles like mobile deposits and an awesome menu of integrations like Zapier (my favorite!!), Stripe, Slack, Quickbooks, Xero, Shopify, and Transferwise.
One of the other things I really like about Novo is the ability to invoice your clients directly from Novo so if you don't want to pay for a separate subscription to (or deal with the hassle of) a standalone invoicing tool, you can use Novo's built-in invoicing and the funds from your client land right in your Novo account.
Novo also offers third-party account access which is perfect for securely adding your bookkeeper/accountant or an assistant. 
Lastly, Novo has built-in budgeting functionality which is super helpful if you loved Azlo's envelope system so you can set aside your tax liability and be able to see how much cash you have on hand vs. how much cash is earmarked for paying those business taxes we all love so much.
Note from Kathleen: 
So after quite a bit of hemming and hawing on my part, I finally landed on replacing my Azlo business checking account with Novo and I am very happy. The whole process took me about ten minutes to complete and I woke up the next day to my approval and a ready-to-go account. Transferring my funds from Azlo was a breeze, too.
As a result of this great experience, I have accepted an invitation from Novo's team to become a Novo partner and the links above are affiliate links so if you find this roundup helpful and decide to go with Novo, please consider using my signup link.
For what it's worth, I think Novo is an awesome platform (better than Azlo from what I have experienced so far!) and I would be happy to recommend them even if I wasn't an affiliate.
Other free small business checking alternatives
indi Indi is a business-centric neobank that bills itself as "smart banking for independent workers" and it's FDIC-insured and backed by PNC. It offers an envelope system similar to other neobanks like Azlo so that you can set aside your tax liability and keep it separate from your "okay to spend" cash. Like most of the other options here, indi is fee-free and doesn't have a minimum balance.
Lili Lili is another neobank that has actually positioned itself to target freelancers specifically. They are backed by FDIC-insured Choice Financial Group. They have plenty of features that you'd expect like mobile deposits and something called the Tax Bucket where you can automate setting aside your tax liability as your income rolls in. They seem kind of light on direct integrations with other platforms like Stripe, accounting platforms, etc. but maybe they'll beef up their integration offerings soon.
Wave Money would likely be another good option purely on how awesome Wave's free accounting platform is (I've been a user for 5+ years and LOVE it) but they've not yet rolled out the checking account they started promoting last year. I submitted my application as a beta checking user some months ago and never heard anything back. It doesn't seem like there is much movement towards opening up membership yet.
Your local credit union is another great option, especially if you're social-good minded. I believe credit unions are an important option that you should consider and many do offer small business checking.
Credit unions, unlike banks, are member-owned financial cooperatives. The credit union's mission is to serve their communities not shareholders and often place a big emphasis on community-focused initiatives and philanthropy.
One thing to double check is whether a credit union has mobile-deposits for their business accounts. I was a member of a credit union a few years ago and had a small business checking account with them but they had not yet moved to offer mobile deposits to those accounts which meant I needed to go to a branch to deposit paper checks from my clients.
Check with your local credit unions to see what business banking options they offer and their fee structures and technology features. The National Credit Union Administration has a locator tool here to help you find credit unions in your town.